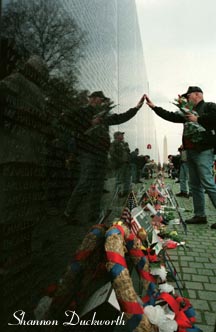 A Lancer out of sight
Never out of mind
(republished from the LAFA website)
Captain Mark P. McCarthy, 31, was performing a training mission over the Adriatic Sea when his F16C crashed at 8:40 a.m. Jan. 26, 1995 approximately 60 miles east of the Italian city of Comacchio.
The 1985 U.S. Air Force Academy graduate served as the 510th FS's assistant operations officer.
The nine-year Air Force veteran's decorations include the Air Medal, Aerial Achievement Medal with one oak leaf cluster, Air Force Commendation Medal with one oak leaf cluster and the Air Force Achievement Medal.
McCarthy is survived by his father and mother, retired Air Force Gen. James P. and Alice M. McCarthy, from Monument, Colorado; and his wife, Patti, and three children, Bryan, David and Christina.
Written by David Sarvai 03 May 2012
Click here for more details.
On this Memorial Day Weekend, please share your stories of Mark on our Facebook page to remember him not only as a military hero but as Classmate and friend — click this to access our Facebook page.